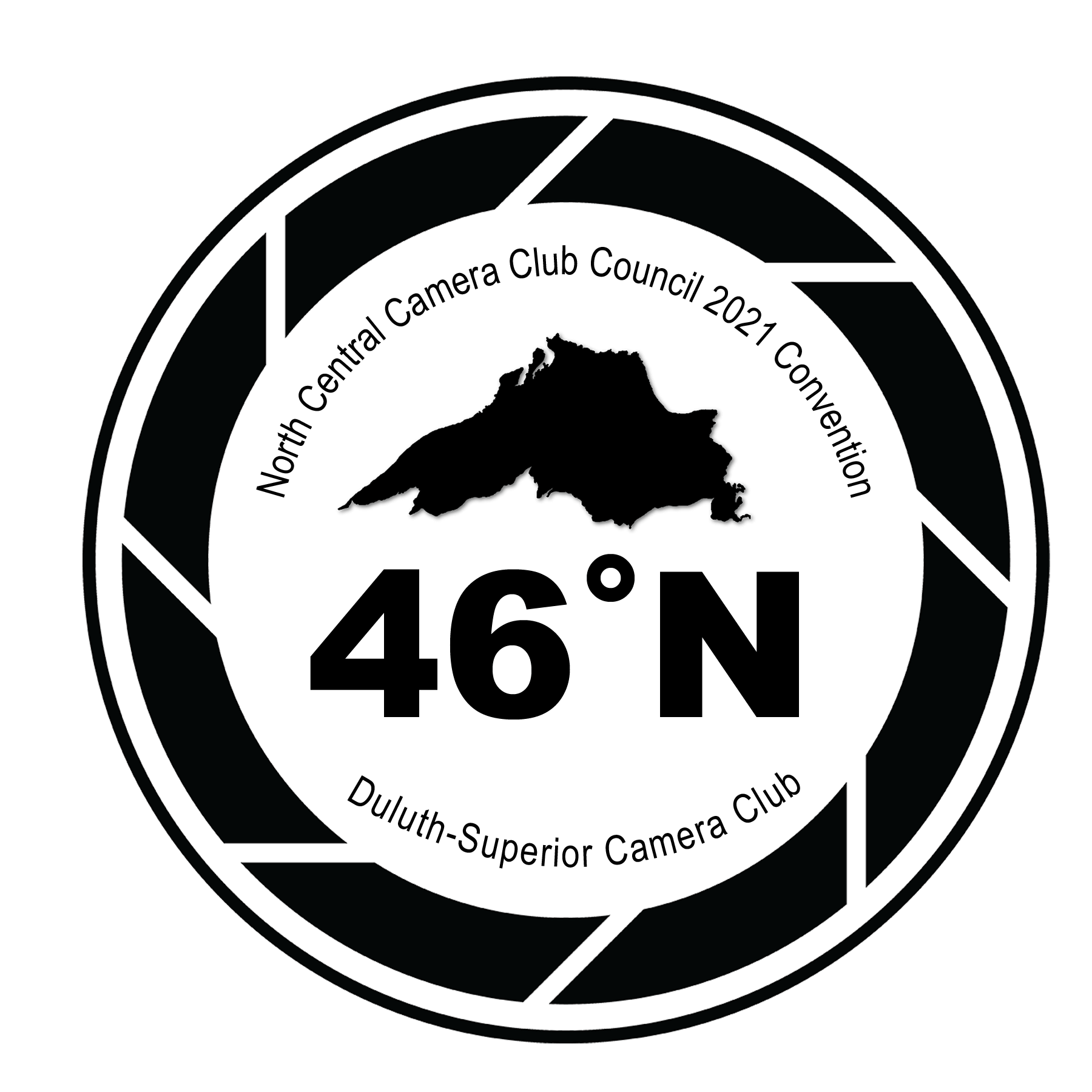 Notice: the 2021 Convention has been postponed until September 2022.
It is with an abundance of caution along with much disappointment that the Duluth-Superior Camera Club has decided to postpone the 2021 Fall N4C Convention for the health and safety of members and our community. We were looking forward to "everything photography" that we had planned for you, but we do not want to risk anyone's wellness given our areas uptick in Covid and the community spread of the virus. Also taken into consideration was the wildfires, drought, and that the leaves are already changing up here…creating potential issues with air quality and good conditions for our field trips.
Just so you know, we're a hardy, hard working bunch at 46° North. The pandemic might have won this year, but we are planning on hosting the 2022 convention on September 22-25, 2022 at the Radisson Duluth-Harborview. While the speaker lineup may change, the conference framework will be the same and we will make sure you have a great educational and photographic experience.
We sincerely apologize for any inconvenience and frustration this may cause and we look forward to greeting you at 46° North in 2022! Those who have registered you should have received an email directing you to the steps to take regarding your registration. If you have hotel rooms reserved please call the as soon as possible to discuss your options.
Please keep following us here and on our Facebook page for updates. 
---
The Convention will be held September 23-26, 2021 in our beautiful international port city of Duluth, MN. Duluth is nestled on a 600 foot bluff overlooking the largest freshwater lake in the world, Lake Superior. With just a hop, skip, and jump across the Blatnik Bridge, you'll be in Superior, WI.
Our four-day program will be packed with fun, inspiration and education from industry experts from all around the country. We will offer presentations and photography field trips that will help grow each other's skills and inspire each other as photographers.
If you can't attend, or have uncertainty during the pandemic, we have added an additional component for those who can't attend in person-join us virtually! Any paid attendee will get a code to access the live stream.
We are offering an ala carte format for those who are attending. One flat rate for virtual attendance, general attendance, and separate pricing for field trips and banquet dinners. You can change your in-person ticket to a virtual ticket anytime by emailing us with a request for the change. Send an email to DSCC Events Coordinator to request this change.
We are also making arraignments for your "spouse or plus one" attendee to have their very own field trips in the afternoon while we are in our workshops/presentations. You can follow updates and connect with others who are interested in the event on the Facebook Event Page.
The convention will be held at the Radisson Hotel-Duluth Harborview.
Location
Radisson Hotel- Duluth Harborview
218-727-8981
Hotel Room Cost: $135.00 per night
Use code N4C921 when booking online.
Cost (convention events only)
$130.00 – Early Bird Special (Dec 1, 2020-May 31, 2021)
$150.00 – Regular (June 1-Aug 31, 2021)
$170.00 – Late Registration (Sept 1-Sept 23, 2021)
Terms and Conditions:
Cancellations & Refunds: You may cancel your registration at any time prior March 1, 2021 for a full refund. From March 1-May 31, 2021, a $50 Cancellation Fee will be kept. After June 1, 2021 there will be no refund.
Disclaimer: DSCC or N4C reserves the right to make program and schedule changes, additions, or cancellations as it deems necessary.
Photography/Videography Release: As a condition of your appearance or attendance at N4C 2021Convention or any related event, you expressly grant DSCC and N4C permission to capture images of you and to use those images for the purposes of recording and reporting on this event and for use in promoting events and that such uses shall not impose any liability on DSCC or N4C or entitle you to any compensation for the use of your likeness.
Covid-19: Attendee expressly agrees to fully comply with appropriate COVID-19 health and safety measures and protocols for attendance at the event, including the requirement to wear face masks at all times and maintain appropriate social distance. If needed, DSCC will have limited face masks available for those attendees who do not bring their own masks to the event. DSCC or N4C representatives reserves the right to remove any attendee from the event for failure to adhere to the required COVID-19 health and safety measures and protocols for attendance at the event.
Waiver of Liability: Attendee expressly assumes, and releases DSCC and N4C and any affiliates from, all risks, claims, damages, losses, costs and expenses, whether or not reasonably foreseeable, associated with, resulting from or arising in connection with Attendee's participation or presence at the Event, including, without limitation, all risks of harm, damage, illness (including viruses or illness from any communicable disease) or injury (including death) to or related to Attendee and his or her person or property.
For information or inquiries, please contact the DSCC Events Coordinator.